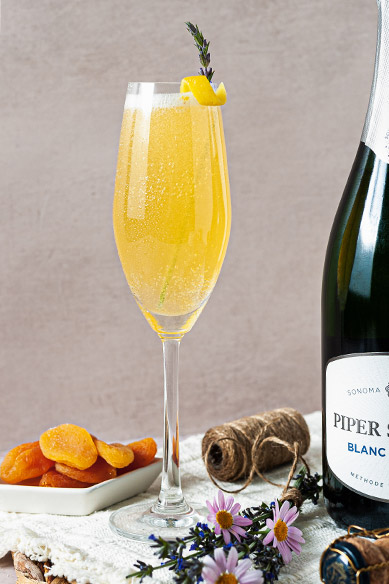 Seasonal Cocktail

Ingredients
3.5oz Piper Sonoma Blanc de Blancs
1oz Lillet Blanc
1/2oz Lavender syrup
1/2oz Apricot nectar
2 dash Rose water (optional)
**Serve in Champagne Flute**
Preparation
Combine all ingredients (except Piper Sonoma Blanc de Blancs) in cocktail shaker with ice, shake until chilled. Pour into glass and add Piper Sonoma Blanc de Blancs. Garnish with lemon twist and lavender sprig.
FOR THE EASY LAVENDER SYRUP (MAKES 1 CUP)
1c water
1c sugar
4-5 lavender sprigs
Preparation
Combine ingredients in a saucepan and bring to boil. Once sugar has dissolved, remove from heat and steep for 15–20 minutes. Remove lavender from syrup before using. Can be stored in refrigerator for 2–3 weeks.