Food & Cocktail Recipes
Each season brings new recipes from our friends, chef Duskie Estes and sommelier Chloe Dickson. Highlighting seasonal ingredients—many grown right here in Sonoma—these recipes make for perfect pairings with holidays and everyday celebrations alike.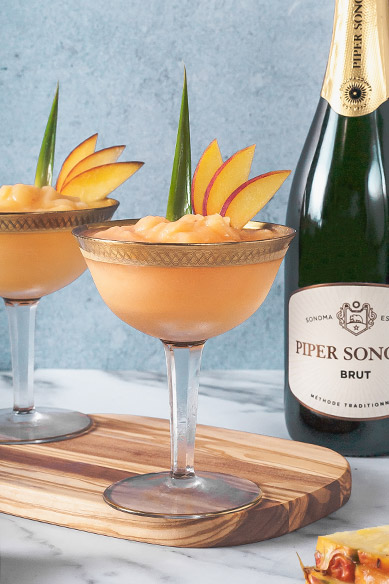 Signature Cocktail

Ingredients
4 oz Piper Sonoma Brut
½ cup frozen peaches
2 cubes frozen pineapple juice
1/2 oz Peach syrup
Garnish with pineapple leaf & fresh peach
**Tip: Freeze the pineapple juice ahead of time in a traditional ice cube tray**
Preparation
Add all ingredients to a blender. Blend until smooth. Top with extra Piper Sonoma to adjust consistency if needed. Enjoy!
PARTY-BATCHING MEASUREMENTS
Makes 4–6 drinks
2/3 Bottle of Piper Sonoma
2 cups frozen peaches
8 cubes frozen pineapple juice
2 oz Peach syrup
---
Cocktail recipes