Food & Cocktail Recipes
Each season brings new recipes from our friends, chef Duskie Estes and sommelier Chloe Dickson. Highlighting seasonal ingredients—many grown right here in Sonoma—these recipes make for perfect pairings with holidays and everyday celebrations alike.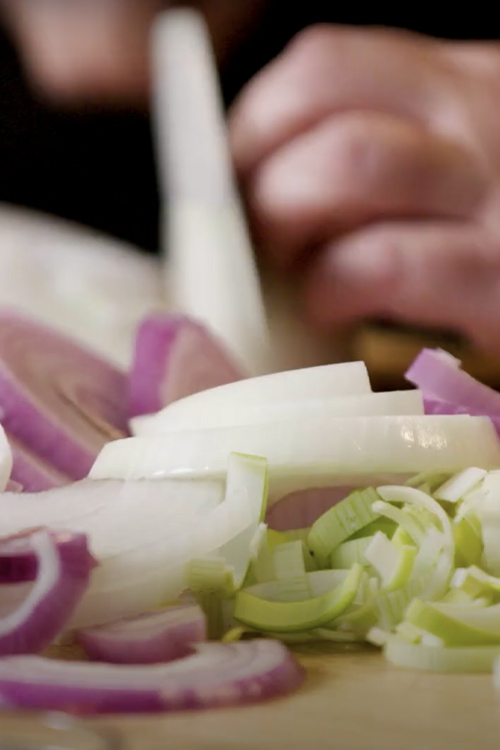 FEATURED RECIPE
SERVES 6

INGREDIENTS
2 carrots, peeled, roughly chopped
2 stalks celery, roughly chopped
4 cloves garlic, peeled
1/3 cup pure olive oil, plus more for crostini
1 pound yellow or maui sweet onions, peeled and sliced
1 pound red onion, peeled and sliced
1/2 pound leeks, greens and root end removed, cleaned of dirt, and sliced into ½ moons
1/2 pound shallots, peeled and sliced
1 bottle of red wine
1 gallon water
Sherry vinegar to taste
Kosher salt and freshly ground black pepper
1/4 baguette, thinly sliced
1/4 cup parmesan cheese
A pinch of onion seeds
PREPARATION
Preheat the oven to 350. In a food processor, combine the carrot, celery, and garlic and process until finely chopped. In a large sauce pan on low heat, saute the carrot mixture and the onions in the olive oil and saute until caramelized, about 20 minutes. Add the red wine and reduce by 1/2. Add the water and simmer 1/2 hour. Meanwhile, make the crostini by brushing both sides of the sliced baguette with olive oil and placing on a baking sheet. Sprinkle with parmesan and onion seeds. Bake until browned and crunchy, about 10 minutes. Adjust the soup with sherry vinegar, salt, and pepper to taste. Garnish with parmesan & onion seed crostini.
---
Cocktail recipes