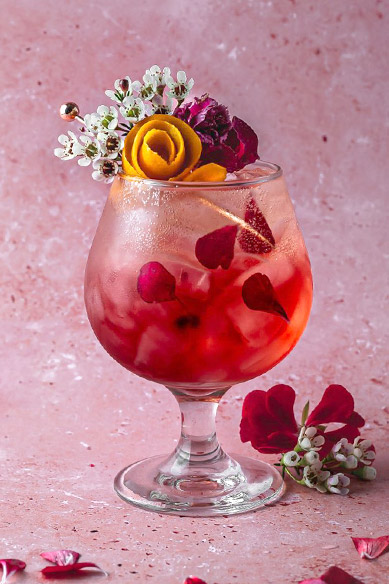 Seasonal Cocktail
INGREDIENTS
3 oz Piper Sonoma Brut
1 oz Red Vermouth
1/4 oz Hibiscus & Rose Hip Tea simple syrup (see below)
1/2 oz Blood orange juice
Splash of club soda
Dash orange bitters
Dash lavender bitters
PREPARATION
Combine vermouth, simple syrup, blood orange juice and bitters in a cocktail shaker with ice, shake until cold. Pour into iced glass, add Piper Sonoma Brut and a splash of club soda. Garnish with edible flowers and orange peel.
FOR HIBISCUS ROSE SIMPLE SYRUP:
3 bags of hibiscus rose hip tea (or 3 tbsp loose leaf)
1 cup sugar
1 cup water
Steep tea in hot water for 6 minutes. Remove tea bag, place brewed tea on stove top and bring to a boil. Add sugar and stir until completely dissolved. Remove from heat and let cool before using.
VIDEO
See Chloe Dickson, sommelier and recipe developer, make the Love in Sonoma cocktail.