About Farm to Pantry
Farm to Pantry is a gleaning non-profit organization that rescues produce from farms and backyard gardens in Sonoma County that would otherwise go to waste, and delivers it to families in need—one in three people in Sonoma County is facing food insecurity. They glean produce from over 250 properties, with the help of over 350 volunteers, and deliver it to 85 community partners. The food is out there and Farm to Pantry goes and gets it—they are the bridge between abundance and need.
Duskie on the Partnership
As we kick off a new season, we are excited to announce our new national partnership with Piper Sonoma sparkling wines. Both Piper Sonoma and Farm to Pantry share roots in Healdsburg and throughout Sonoma County and a dedication to sustainable farming, the environment and food justice. Piper Sonoma and their commitment to philanthropy has been one of their core values for many years, and we are so grateful to partner up with them to address food insecurity in Sonoma County and beyond. – Duskie Estes
Duskie Estes
Farm to Pantry Executive Director and chef Duskie Estes has worked for two decades fighting for ethical sourcing, advocacy for small farmers, and fighting food insecurity in Northern California and at the national level. From 2001 until 2019, Duskie worked in her acclaimed San Francisco farm-to-table restaurant, ZAZU Kitchen + Farm, and with her meat company, Black Pig Meat Co. All the while, she has dedicated herself to fighting for hunger relief. She has held positions at Share Our Strength, leading their service programs, and has worked at the White House fighting for healthcare under the Clinton administration. She also ran the kitchen at Glide Memorial and cycled for No Kid Hungry. She gained national fame for competing on Food Network's Next Iron Chef, Guy's Grocery Games, and has been featured on the Food Network and PBS. When not working, she spends time on her farm with her husband, John, daughters, Brydie and Mackenzie, and their animals.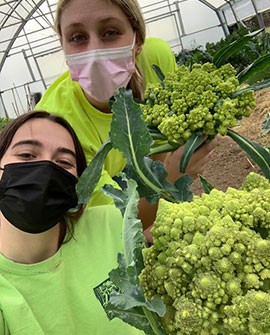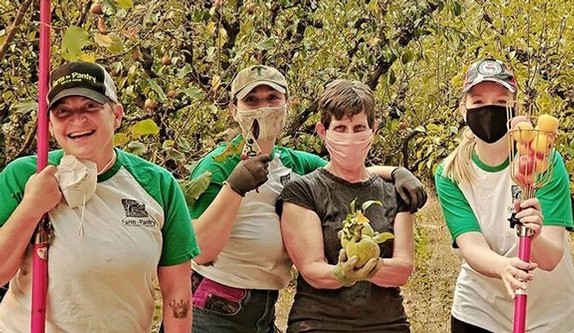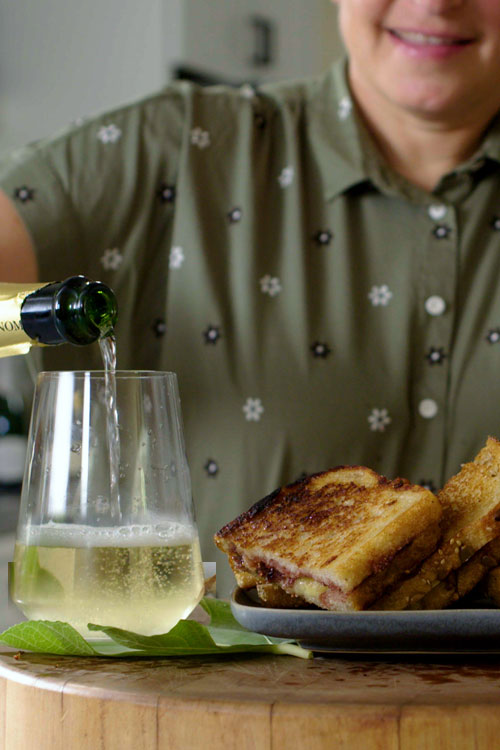 FEATURED RECIPE

Your grilled cheese is only as good as your bread and your cheese. Source the best!
Ingredients

For Mostarda d'Uva:
1 cup red wine
1 cup sugar
½ cup dried figs, roughly chopped
⅓ pound red seedless grapes, picked from the stem
1 apple, roughly chopped
1 pear, roughly chopped
¼ teaspoon ground cinnamon
pinch ground clove
pinch red chili flakes
kosher salt to taste
2 tablespoons mustard seeds
Sandwiches for 4 people:
8 slices rustic sourdough bread
12 ounces quality sharp white cheddar cheese (I like Bellwether Carmody from Sonoma County) sliced thin, or thick if you like!
4 tablespoons softened unsalted butter

Preparation
For Mostarda:
In a medium saucepan on medium-high heat, combine the red wine, sugar, figs, grapes, apple, pear, cinnamon, clove, and chili flakes. Bring to a simmer for about 1/2 hour, until all the fruit is soft. Puree w/ an immersion blender. Stir in mustard seeds.
For sandwiches:
Generously spread 4 slices of bread with the mostarda. Top with cheese and remaining slices of bread.

Warm a sauté pan to medium heat. Smear butter on the outside of each side of the sandwiches and place in warm sauté pan. When browned, flip and brown other side. Once bread is golden and crunchy and cheese is melted, remove from the pan and cut in half and serve. An arugula salad on the side is a perfect accompaniment!