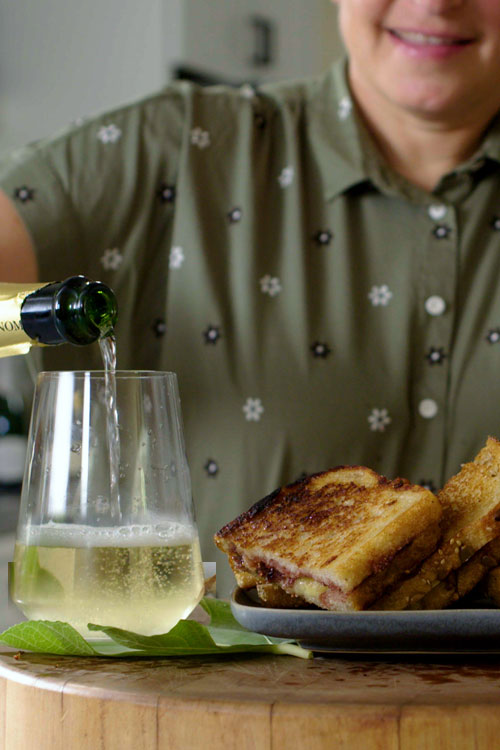 FEATURED RECIPE

Your grilled cheese is only as good as your bread and your cheese. Source the best!
Ingredients

For Mostarda d'Uva:
1 cup red wine
1 cup sugar
½ cup dried figs, roughly chopped
⅓ pound red seedless grapes, picked from the stem
1 apple, roughly chopped
1 pear, roughly chopped
¼ teaspoon ground cinnamon
pinch ground clove
pinch red chili flakes
kosher salt to taste
2 tablespoons mustard seeds
Sandwiches for 4 people:
8 slices rustic sourdough bread
12 ounces quality sharp white cheddar cheese (I like Bellwether Carmody from Sonoma County) sliced thin, or thick if you like!
4 tablespoons softened unsalted butter

Preparation
For Mostarda:
In a medium saucepan on medium-high heat, combine the red wine, sugar, figs, grapes, apple, pear, cinnamon, clove, and chili flakes. Bring to a simmer for about 1/2 hour, until all the fruit is soft. Puree w/ an immersion blender. Stir in mustard seeds.
For sandwiches:
Generously spread 4 slices of bread with the mostarda. Top with cheese and remaining slices of bread.

Warm a sauté pan to medium heat. Smear butter on the outside of each side of the sandwiches and place in warm sauté pan. When browned, flip and brown other side. Once bread is golden and crunchy and cheese is melted, remove from the pan and cut in half and serve. An arugula salad on the side is a perfect accompaniment!