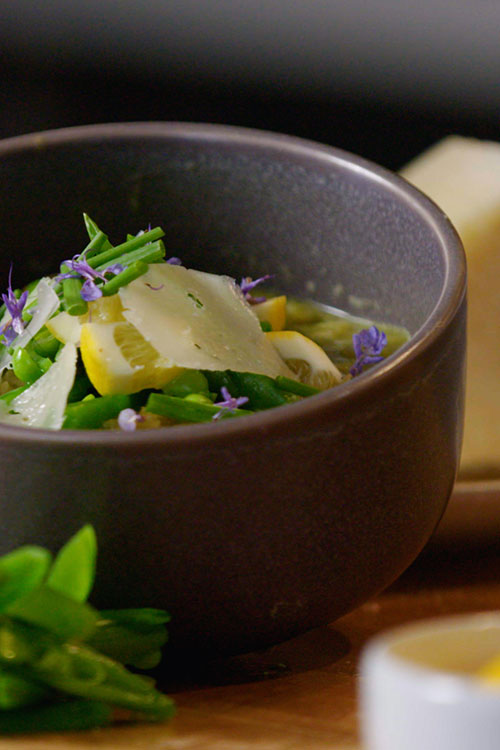 SEASONAL RECIPE
SERVES 4
INGREDIENTS
1 ½ tablespoons olive oil
3 leeks, white part only, cut in half rinsed and sliced into ½ moons
1 ½ cups Arborio Rice
1/ 2 cup Piper Sonoma Sparkling Wine
1 quart vegetable or chicken stock
8 ounces sugar snap peas, strings removed
½ bunch tarragon, picked
1 tablespoon unsalted butter
2 ounces freshly grated pecorino cheese, saving some for garnish
1 Meyer lemon, freshly squeezed
kosher salt and freshly ground black pepper
optional garnishes: chives (cut into ¼ inch batons), roasted radishes, mustard flowers, snap peas (blanched and halved)
PREPARATION
In a saucepan on medium heat, sauté the leeks in the oil, until fragrant, about 5 minutes.

Set up a pot of salted water to blanch the snap peas, heat up the stock in another sauce pan on high heat, and set up an ice bath.

Add the Arborio to the leeks and stir to coat the grains of rice in oil. Add the sparkling wine to the risotto and stir. Take a sip of the Piper sparkling in your glass. Gradually add the stock a ladle at a time stirring constantly.

Meanwhile, blanch the snap peas in the boiling salted water a few minutes until tender. Strain and plunge in an ice bath. Once cool, puree in a blender with tarragon.

The Arborio should cook about 20 minutes, until just cooked through. Mound the risotto with butter, pecorino, and snap pea puree. Season to taste with lemon juice, salt, and pepper. Spoon into pasta bowls and garnish as you see fit.