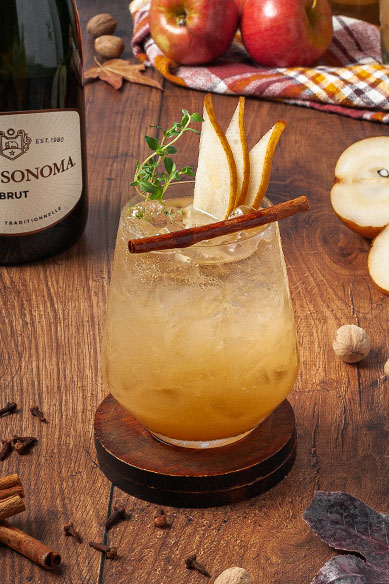 Signature Cocktail

Ingredients
2+ oz Piper Sonoma Brut
1 oz Ginger vodka
1½ oz Apple juice
1/4 cup Bosc pear chunks
1/2 oz Allspice simple syrup
**Serve in tumbler**
Preparation
Combine all ingredients (except Piper Sonoma) in cocktail shaker. Muddle pear. Add ice and shake until chilled. Strain into glass and top with Piper Sonoma Brut. Garnish w/ pear fan, thyme sprig, cinnamon stick.
Allspice simple syrup (makes 1 cup)
1 cup water
1 cup sugar
2 cinnamon sticks
1 tsp whole cloves
1 tsp ground nutmeg
Combine water and spices in a saucepan and bring to boil. Simmer for 10 minutes, then add sugar. Once sugar has dissolved, remove from heat and let steep for at least 30 minutes before using. Strain syrup into container. Can be stored in refrigerator for 2 weeks.

​