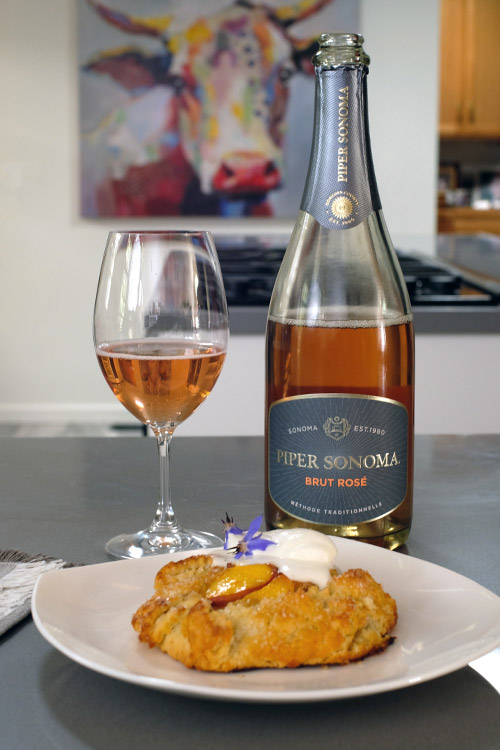 FEATURED RECIPE
SERVES 4

INGREDIENTS
FOR CRUST:
2 ¼ cups flour, plus more for your work surface
8 ounces unsalted butter
¼ cup ice water (or a little more as needed)
FOR FILLING:
5 peaches, peeled and sliced into wedges
¼ cup brown sugar
2 tablespoons flour
½ teaspoon real vanilla extract
1 egg, beaten with a little cold water
2 tablespoons turbinado sugar
FOR ALMOND WHIP:
1 cup heavy cream
1–2 tablespoons granulated sugar (depending how sweet you like it)
Splash almond extract
PREPARATION
In a food processor, pulse butter and flour until resembles course cornmeal. Gradually add ice water until mixture holds together when you smash it with your hands. You want it still crumbly for a flakey texture. It will come together as it rests. Wrap well in plastic wrap and place in fridge for at least ½ hour.

Preheat oven to 425°.

In a mixing bowl, toss peaches with brown sugar, vanilla and flour. Using as little flour as you can on your work surface, cut dough into 4 pieces and roll out into circles 1/8th inch thick. Transfer to 2 baking sheets.

Mound the peaches in the center leaving a 1 ½ inch boarder all the way around. Fold the dough up around the mound of peaches. Brush the pastry with eggwash and generously sprinkle with turbinado sugar. Bake for about 50 minutes, until crust is golden and peaches are bubbling.

Meanwhile, make the almond whip by combining cream, sugar, and almond extract in a mixer with whisk attachment to soft peaks. Plate and dollop each crostata with almond whip.