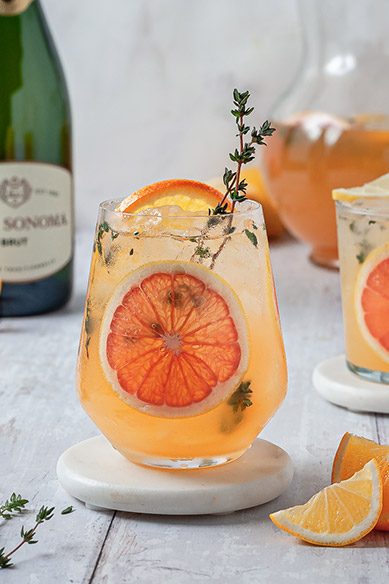 Signature Cocktail

A light and festive twist on a classic party-pleaser. The best part about this bright and fruity delight is that all the prep takes place beforehand. All you do is add the bubbles when your guests arrive.

Recipe serves 6–8, so adjust accordingly for smaller—or larger—get-togethers!
Ingredients
1 bottle of Piper Sonoma Brut
8 oz Gin
4 oz Citrus & Thyme Simple Syrup **recipe below**
8 oz Pineapple juice
8 oz Orange juice
Fresh fruit slices (½ an orange, ⅓ a grapefruit, ½ lemon)
Fresh Thyme
**Prepare in a large pitcher**
Preparation
Add Fresh fruit slices and some thyme sprigs into a serving jug. Add all liquid ingredients (except Piper Sonoma). Mix well & allow to rest in the refrigerator for at least 2–4 hours.

To serve: Pour 3 oz of cocktail mixture into each glass. Top with 3–4 oz of Piper Sonoma Brut. Garnish with fresh thyme and fruit wheels.
Citrus & Thyme Simple Syrup
1 cup sugar
1 cup water
1 cup of mixed fruit slices (orange, lemon, grapefruit)
4–5 Thyme Sprigs
Bring fruit and water to a boil. Reduce heat and add in sugar until completely dissolved. Remove from heat and allow mixture to marinate for minimum 30 minutes. Strain off the fruit before using. Can be stored in fridge for up to 2 weeks.