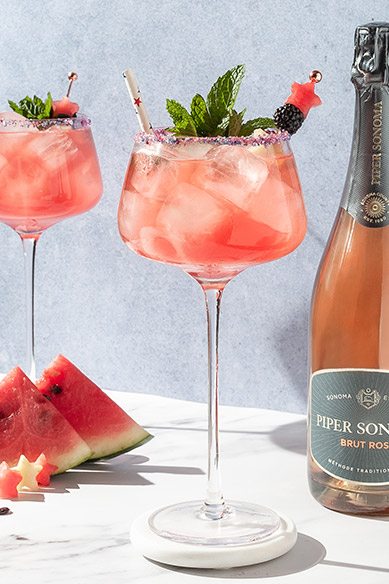 Signature Cocktail

Piper Sonoma lights up your holiday with this sparkling 4th of July-themed Watermelon Hibiscus spritz.
Ingredients
3+ oz Piper Sonoma Rose
1 oz Vodka
1/2 oz Hibiscus Syrup
1/3 cup watermelon chunks
1/2 oz fresh lime juice
Fresh Mint
** Serve in a spritz glass**
Preparation
Combine all ingredients (except Piper Sonoma) in mixing glass. Muddle mint and melon. Add ice and stir until chilled. Double-strain into and iced glass and top with Piper Sonoma Rosé. Garnish with a colored sugar rim, melon stars, fresh mint and a festive straw.
For Hibiscus Syrup:
3 bags of hibiscus tea (or 3 tbsp loose leaf)
1 cup sugar
1 cup water
Steep tea in hot water for 6 minutes. Remove tea bags, place brewed tea on stove top and bring to a boil. Add sugar and stir until completely dissolved. Remove from heat and let cool before using.

​